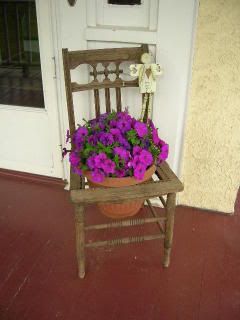 Here is a quick and easy way to add primitive charm to your outdoor living space.
I go to auctions, but not as many as I used to since I've had my boys! LOL! Anyhow, there would always be one or a few chairs up for bid that had no seats. Well, who has time to repair or recane chair seats!
So, what I did was I waited for just the right one (I have a few "Right Ones" but don't use them all). I bought this beauty for just $1 and turned it into a primitive flower holder.
I was lucky enough to have a decorative plastic container that looks like terracotta that fit perfectly into the seat frame. If you don't have one that fits, you could always add scraps of wood to the corners to adjust the diameter of the seat opening to accomodate your pot. If you buy a plant that cascades, it will hide the scraps of wood and no one will ever know!
I usually buy wave petunias, but this year I fell in love with these regular petunias and couldn't be happier! I can't wait until about mid-July when they will be at their fullest and prettiest!
I hope you enjoyed this quick and easy idea! It looks so pretty next to my front door, but you could also place it directly in the yard or anywhere that needs that little unique "something"!
Blessings,
Mary Jo