I just returned from my supplier this week and was amazed to see so many new products available, and I am happy to bring many to you.
A few weeks ago, I picked up a coverlet in the pattern "Lover's Knot" and my quantities sold out in 24 hours! Well, the good news is I was able to get more in stock and they also had all of the coordinating accessories!
In addition to the coverlets, I now have matching napkins, placemats, kitchen towels, table runners, lamp shades, pillows AND afghans! Just take a look!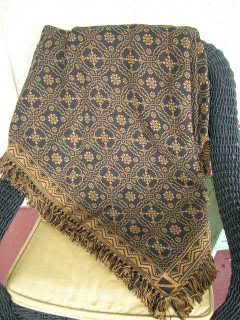 I was thrilled to see that they had these same accessories in a wonderful print called "Jamestown". This print is a mustard colored willow tree and diamond design onto a black background, so very prim! I have placemats, table runners and afghans in this pattern as well.
These textiles are very high quality woven material made of 100% cotton and are machine washable. I hope you enjoy them as much as I do!
There are even more wonderful products that are new to our shoppe. I just love the new trend in silicone bulbs which are hand dipped into scented silicone with grubby spices mixed in. The scents that I have are Cinnamon Spice and Hazelnut, and they smell great and look so primitive!
I also have carved wooden swans, sepia tinted Christmas and Winter plaques, Santas, raggedies, wooden barn stars, and large prim wooden cutting boards. My favorite new item are the large rectangular bowls that come in your choice of four colors...mustard, red, black and the very hard to find, GREEN! Just incredible, you won't be disappointed!
Stop by www.finecountrylivingprimitives.com and see our new and exciting products. We always have something new for you, we love to bring in the latest trends in the primitive world, and strive to offer you high quality items at affordable prices.
Blessings,
Mary Jo