Even though it is still technically Summer, Fall is in the air around our household. As I sit here on my front porch working on my laptop, I am watching Seth and Same, ages 3 and 4, raking the leaves from our chestnut tree in the front yard. For some reason, they are falling earlier this year, and the boys are enjoying gathering the chestnuts in bags and it's giving me a little quiet time to write this! :-)
Our pumpkins have matured and turned orange earlier this year also, and already a few neighbors and friends have come asking for a few to fill in those bare spots in their outdoor gatherings. We don't have as many as last year, but they sure are a lot nicer....perfectly shaped and uniformly orange. I can't wait to pile some bales of hay and dig out the ol' scarecrow from last year and pile the pumpkins on the bales of hay by our front door....I'll be sure to post a pic, but in the meantime, here's a picture of LAST year's harvest! My, how the boys have grown!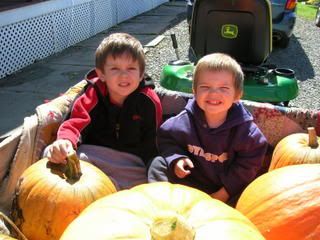 I sure wish that this time of year could last ALL year.....the warm sunny days without humidity, the cool nights with the windows open and a need for a light covering...I surely wouldn't complain!
We are planning our final Fall vacation to Lancaster with the boys in a few weeks. Since Seth will be in Kindergarten next year, we won't be able to sneek away during the off-peak months like we've been doing for years. I wll miss seeing the harvesting of the fields that we have enjoyed for many years now, but maybe I COULD take him out of school next year for just a day or two and count it towards an educational family trip! The boys enjoy it as much as we do and I would hate for them to miss out on it.
That's all for today, I just wanted to spend a few minutes here to relax a bit and collect my thoughts, it's good for the soul to just slow down and savor the small things in life, and my two small boys and our time together is the best things in life that I know!
Blessings,
Mary Jo