As many of my customers know, my husband and I have decided to expand our online business and open a "brick and mortar" shoppe here on our property. We (really, he's doing all the work) are renovating one of our barns into a retail space so that we can share our love of primitives and country living with those around us. We are very excited that we can do this next to our home and enable me to be here for our boys as they grow up! In fact, Sam, the youngest, can't wait to "be the boss" and manage the store! LOL!
Here are a few pictures of where we are in the process. These are before pictures and "in process" pics, and next week I will post pictures of our completed porch decorated for Fall! It's hard to see in the pictures, but we covered the wooden clapboard siding with foam insulation (that's the blue material the boys are measuring) and resided with vinyl siding that matched the original clapboard siding. We didn't want to alter the original look of the barn, but wanted to insulate it and make it easier to maintain. Russ (my husband/contractor/electrician) also added new windows with smaller window panes so it matches our house.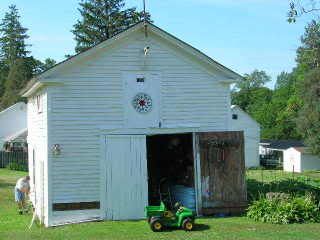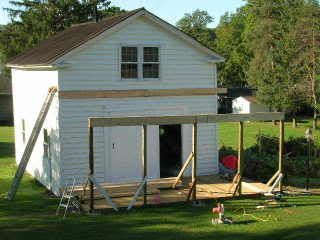 And I know that I posted these before, but I just have to show off my two boys again helping their Daddy build my shoppe!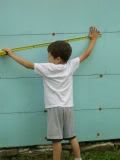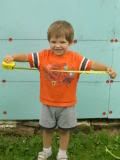 Now, all Winter long, my husband will be working on the inside. All that is needed is for the upstairs to be sheetrocked and the walls painted, we need new stairs leading upstairs, and the downstairs needs to be painted, new subfloors and carpeting put in. He has already wired the shoppe, so after the painting and floors are done, we can start adding the track lighting, the heater and we can start filling it up! Oh, I cannot wait!
This has been a dream of ours for 7 years now, and it is finally becoming a reality! It is hard work, but well worth it and we hope to open in the Spring!
I will post those pictures of the new porch decorated with our pumpkins and such next week, until then, have a wonderful weekend and enjoy the last few days of summer!
Blessings to one and all,
Mary Jo, Russ, Seth and Sam.........The Elliot Family