Laura from Washington is a wonderful customer of mine and I've been blessed to get to know her through emails back and forth...one of the greatest perks of my job is making new friends all across the globe! She wanted to share this picture of a few of the products she purchased from my online shoppe and I think that this grouping is perfect, don't you?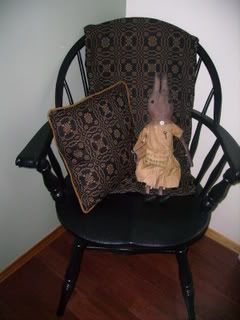 This is a picture of her Windsor chair showing the Lover's Knot coverlet and pillow and also "My Bunny" and her pillow also available on our online shoppe. The colors coordinate perfectly and I love the vinette she created by putting all three products together!
Thank you again Laura for sharing this picture with us all!
Blessings,
Mary Jo