I just wanted to quickly share two pictures with you all who are dreaming of a White Christmas! This was one (of the many) recent storms we've received here in Northeastern Pennsylvania.
This first picture is of our Shoppe. In case you were all wondering on the progress, we have heat now! (yippee!) Now Russ can paint the walls and the downstairs will be 100% complete! Hmmmm....guess I better get sewing those curtain, huh? :-) Anyhow, doesn't it look pretty in the snow? That front porch is going to be perfect for displaying those outdoor goodies I plan to sell this Spring and Summer!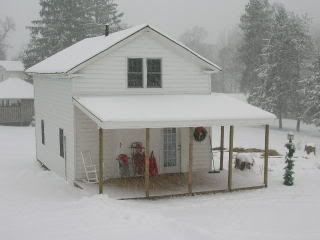 This second picture is of our other barn, the one we call the "Chicken Barn". This barn dates back to when the house was built in 1827, and we just love the cupola on top with our weathervane. This barn now houses our two pet rabbits, Tiny and Cutie, and one wild rabbit which we haven't named yet. We are planning on getting chickens again this Spring, I miss having them too much to go without them much longer! They make wonderful pets and you can't beat fresh eggs every day! Seth and Sam are having fun and were really trying to get their little John Deere Gator to drive in the snow, but it didn't work out too well for them!
I would also like to take this opportunity to wish you all a Blessed Christmas and a very Happy New Year! May this year bring you all Peace in your own homes and Peace throughout the entire world!
Blessings,
Mary Jo