I am so thrilled that I met a wonderful new friend this past week. Her name is Linda and she lives in Ohio. Linda purchased my folk art doll set, George and Martha Washington. Well, I hated to see them go, but off they went to Ohio. I did ask Linda to send me a picture of the dolls in her beautiful antique shoo fly. Linda kept her word and here is the picture, don't they look happy?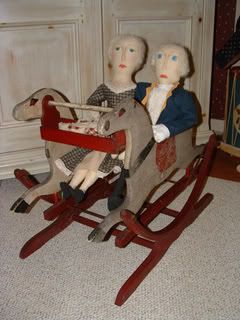 Thank you Linda for sharing the picture with me and our fellow primitive and folk art lovers.
I enjoy what I do so much, especially when I have a chance to actually speak to my customers. Many of us become friends either over the telephone or through regular emails, and I truly cherish the stories we share and the "prim talk" about all the goodies we found and where we got them from. Linda and I had quite a talk last week, and like so many of my friends through my website, we have so much in common! I only wish that all of us lived closer together, wouldn't we all have such a fun time antiquing and hunting through yard sales and flea markets!
If any of you have pictures of products that you would like to share just as Linda and Laura have done, just contact me, we all would love to see how you display your goodies!
Peace and blessings,
Mary Jo