I just wanted to share a new product with you that I brought back from the suppliers on my latest trip to Lancaster. These are everlasting candles and they do as they say....they last forever! They are made completely of wax except for the little secret on top!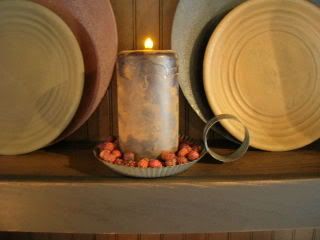 These particular candles are handmade by pouring wax into a mold. The top of the pillar is hollow, or indented, and just the right size to fit a tea light battery operated candle inside that has a slight flicker making it look so very real! The girl that made these candles dipped the tea light into the same colored wax so that it blends in perfectly! The candles were made in various styles.....some have designs embedded into the pillar candle's wax such as the American flag or parchment paper that has script style lettering, and wrapped with rusty wire....but all were dusted with cinnamon dust to give them a dusty, time-worn appearance. These come with the batteries, so all you do is lift out the little tea light, turn the switch to on, and enjoy the look of a real Colonial style candle without the danger of fire and flame!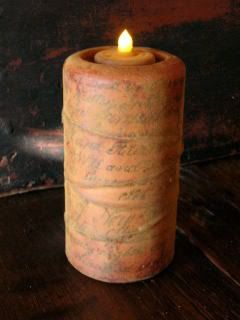 I purchased all that the supplier had to offer, and they are selling quick in both my retail shoppe and online, so please stop in quickly at www.finecountrylivingprimitives.com if you would like to purchase one for your own home. At the price of $19.99, and the fact that they will last forever (except for a battery change every so often), I think that it is an exceptional value!
Enjoy!
Blessings to all,
Mary Jo