All throughout the primitive community you will see Sweet Annie used as a prim accent. Many people do not know what it is, and neither did I, until I stumbled across it myself and fell in love with the herb.
Sweet Annie is a fragrant herb that dries and preserves beautifully. Another name for it is Sweet Wormword, but my preference is Sweet Annie....it sounds much nicer, doesn't it?
Sweet Annie is easy to grow (although I haven't had much luck with it, but I have a brown thumb) and needs to be kept in check because it is known to overtake flower and herb gardens. They say the secret is not to let it go to seed.
Sweet Annie is easily dried as is many other herbs, but is better known in the primitive community to be best used when preserved. Preserving Sweet Annie retains it's beautiful green and mustard yellow colors, it's lovely fragrance, and is less brittle making it much easier to create wreaths and gatherings with it. I purchase my Sweet Annie already preserved and snip off the amount needed to add to my prim dolls and pouches.
One of my favorite dolls to make right now is my faceless prairie doll using a pattern by Primfolks. I make this doll holding a bag made from a cutter quilt and it is filled with Sweet Annie. Another favorite way I use my Sweet Annie is to tuck it into the raffia I tie around my Colonial Sawdust Pillows.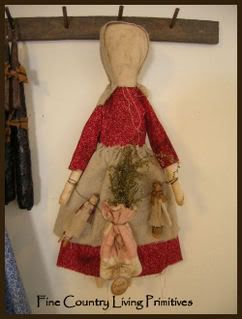 You can also hang a bunch of preserved Sweet Annie from a pegboard, from exposed beams in your prim home, or off the side of a cupboard. I've also seen prim lovers fill old dough bowls and trenchers with Sweet Annie and tuck sprigs of the herb in with their bundled candles....the possibilities are endless!
I hope this little bit of information peaks your interest in the aromatic and beautifully decorative herb! Ebay is a great place to purchase some, so be sure to check it out!
Peace and blessings,
Mary Jo