Well, my little baby Sam is going to be four years old on March 1st. Luckily, he and Seth aren't getting into things like they used to when they were much younger, and I felt it was time to do some redecorating.
BEFORE: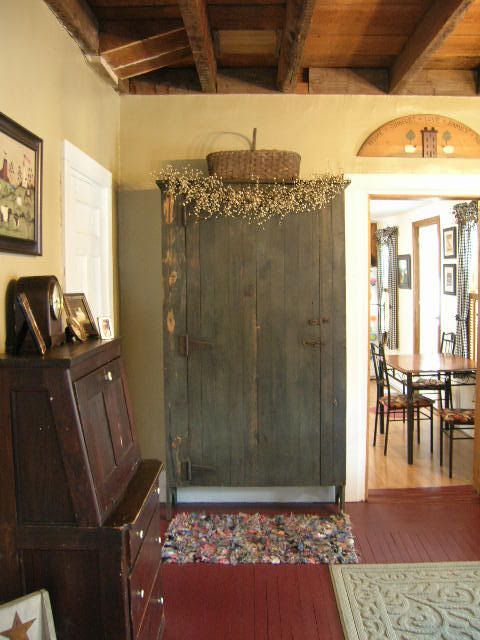 I have this wonderful tall black cupboard that we purchased from a local antique store about a year after we moved into the house. For the past three years, I have had to keep the door closed on it for fear that the boys would try to climb the shelves (it's secured to the wall, by the way, just in case!) or remove all of it's contents and do their own "decorating". I felt this was the day to open it back up.
I cleaned it out and started fresh. I went up to my upstairs spare bedrooms above our kitchen and started digging. Yes, I stash everything up there and I can literally go shopping without leaving my own home! There are piles and boxes filled with goodies that I can't resist when I go to auctions and yard sales. It's a sickness, I know!
I found a wonderful old quilt that has been hand quilted using red thread. Well, what a great thing to drape over the door? By the way, draping ANYTHING over cupboard doors is my most favorite decorating idea.
I did have great cream colored berry pip garland draped over the top of the cupboard, and now that looks awkward with the door open. I simply "folded" it and placed it in my old market basket and it looks like I went picking berries in the woods....love it! Oh, forgot to mention, I got that old market basket for $1 (or was it $2?) at the local auction because there is a hole broken through the bottom corner...but you can't see it and whatever you do, don't devulge my secret! LOL!
Next, I found an old store bought quilt from my bed that I had stashed away, I folded that and placed it in the very bottom shelf. Then I folded a beautiful mustard yellow and brown tone quilt top that I just purchased....it's Amish made and one day, when I have time (yeah, right) I will finish the quilt myself. This came from an auction in New Holland, PA. That went on the next shelf. I have a cute little black "fake" kitten curled up sleeping, so I placed it on top, and it looks like I have a little kitty taking a nap on the quilt...too cute!
I found an old family photo and took one of my everlasting pillar candles and placed it inside a berry wreath I had. That's why I love those battery operated candles. The flame flickers and looks like I have a candle lit inside the cupboard where it would be too dangerous to have a real candle lit. An old robins egg blue covered book and one of my little inspirational signs finish that shelf off nicely.
The shelf above that holds some antique books my Aunt Rosemary gave me along with a little journal that I found of an old farm in nearby Harford, Pennsylvania, that documents everything that happened on the farm for four years. I know what cattle and pets were born, died or were sold off, the price of grain, the weather, and whatever else was on their mind that day. My grandmother's glass oil lamp and a candle box that my father made also sit on that shelf.
Finally, the top shelf just stumped me. I couldn't find anything that look just right. So, once again, off I went shopping, but this time I went into my own retail shoppe. There I found a reproduction sampler and propped it in the left corner of the shelf. Beside that, I placed one of my faceless prairie dolls in a pretty robins egg blue dress. (I hardly keep any dolls for myself, this was a treat!) I tucked in one of my Colonial Sawdust Pillows in blue ticking and wrapped with raffia and my large flameless pillar candle finished the shelf off perfectly. I have two realistic looking candles "burning" away in my cupboard, and I don't even have to worry about a fire!
One last touch...I added a set of my grungy tallow styled candles to the cupboard door's hook and tucked in a sprig of Sweet Annie for an added touch.
AFTER: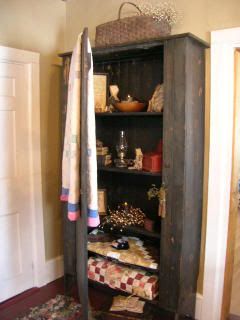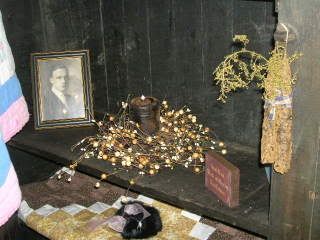 I really like how this turned out and hope you get some ideas from this old-yet-new primitive gathering in my sitting room!
Blessings,
Mary Jo