I just returned from a day trip to Lancaster and stocked up on tons of new products, you will be amazed at the variety and selection of new items that are waiting for you!
Since the everlasting flameless candles were so popular, I brought back another style of flameless candle. The suppliers can hardly keep them in stock, so I grabbed as many as I could!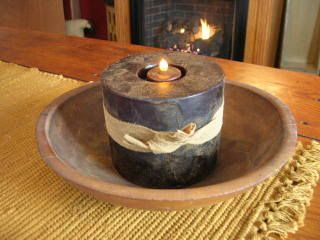 This flameless candle is a very large pillar candle made of solid black wax. Just like the other everlasting candles, this one has the top hollowed out to hold a battery operated tea light that flickers just like a real flame! You get the look of a primitive, Early American candle, but no risk of fire....place them anywhere, in your bathroom, bedroom, inside a cupboard, all the places you were afraid of lighting a real candle before!
The candle has been dusted with cinnamon dust and has the look of Colonial America, very primitive! This candle measures 4" high and 5" in diameter and will last you forever since you are never burning or melting any wax....simply replace the lithium watch style battery (which is included by the way, you will be ready to use this immediately!) as needed, and you will enjoy this for years upon years.
Another new product that I brought back was a Paul Revere punched tin candle lantern. This is made of galvanized tin and can be set on any surface or hung from a hook. It has a taper candle holder inside and has a hinged door so you may leave the door open or closed, whichever you wish! I would even suggest hanging this from a shepherd's hook outside for a unique primitive accent to your outdoor space!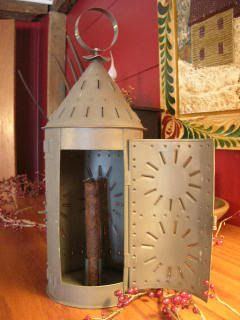 Please stop by my website at www.finecountrylivingprimitives.com to see many more primitives and colonial wares that I brought back for you! The easiest way to find new products is to click on the NEW ARRIVALS button on the left, and there you will see all of the new stock.
Thank you for taking the time to read up on what's new and I look forward to hearing from you all soon!
Peace and blessings!
Mary Jo Elliott