I am so glad that I decided to stay to the end of the last auction I attended this past week! At the end of the auction rainbow was my little pot of gold....an antique Singer sewing machine!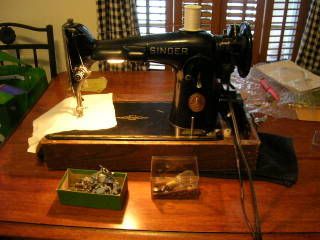 This little beauty is in a portable case and came with a box of attachments. I was bidding against an antique dealer who wanted it only for the foot controller, so I knew I was going to have some competition, but I felt confident feeling that she would not be willing to pay too much for it just for the foot control.
Well, I was right, and ended up bidding against someone else that night instead, but came home with this old girl for only $15!!!!!!
The next day I carried her up from my minivan to the house, and was surprised to get another gift with purchasing this machine...a pulled muscle in my shoulder! She is so heavy that I pulled muscles in my shoulder and neck by carrying her. But she's worth it!
I grunted as I lifted her up on my kitchen table and was giddy with excitement! I was hoping beyond all hope that she would work. The only issue was a little note that the previous owner had in the attachment's box...the thread keeps breaking. It was written on an old and brittle piece of paper, meaning it has been a VERY long time that it has been in working order, and it made me a bit nervous.
I did some research online and by looking up the serial number on Singer's website, found out that it was made in 1950 and is a model 201. I refused to pay $15 for a replacement manual from Singer, so off to ebay I went and found a pdf version for only $4.99! It was a Godsend! I now had the instructions on how to tear this baby apart (I just love this kind of thing!).
I read up on the thread tension for both the spool thread and the bobbin thread. I carefully took apart the thread assembly, cleaned each and every little part while I was at it, and re-assembled it in order to "reset" the tension settings.
It worked like a charm and she is off and running, and she hums like a dream! I am shocked at how quiet she is, much more quiet than my 5 year old Singer, and much prettier too, although I'm not in favor of judging people, or machines, by their beauty alone.
I'd like to name her, but nothing has come to me yet. Maybe I will wait and create my very first doll with her and name both of them the same so that both can share in this moment.
And who said only boys can have toys?
Blessings,
Mary Jo