Just look at what my husband has done for me! He told me that he had tons of square cut nails from our old barn for me, but couldn't find the cans. We found some handfuls here and there, and I've used them in the Statue of Liberty dolls that I have made and, most recently, Miss Independence that I've written about in this blog just the other day.
Well, I came in from the outside the other day, and sitting right in front of my computer was this!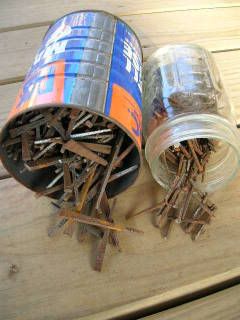 I was tickled pink! Can you imagine the goodies I can make with these? The coffee can is full of the large nails, and the mason jar is filled with the smaller nails.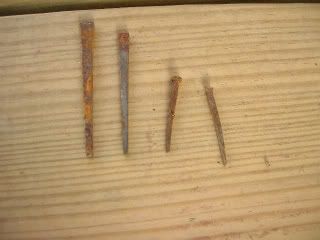 What a man! I wonder how long it took him to gather these from the barn? Thanks Russ! And what perfect timing.....the new Early American Life magazine has an article on handmade nails including how Thomas Jefferson used nail-making as a reliable source of income on Monticello for some time. Great article, and a great magazine and worth the subscription price.
So anyway, be on the look-out and keep checking back to see what I've made with my new treasures!
Many Blessings,
Mary Jo