Here is a wonderful new addition to our retail shoppe. This wooden fireboard was handmade by a local artist and is painted on approx. 2" thick wood and has wooden feet.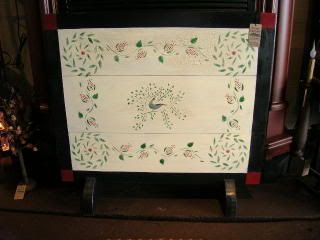 The style is perfect for any home and would fit into a Victorian, Colonial, Country or Primitive home easily with it's beautiful black painted edging with barn red in each corner. There is crackling in areas, and is signed, ready to place in front of your fireplace or anywhere you need to screen something off in your home. Measures 30 inches wide, 28 inches tall.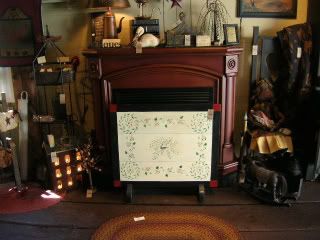 We hope you enjoy this new addition to our shoppe, and we are always willing to ship, so if you would like a price quote including shipping, just be sure to email me at maryjo@finecountrylivingprimitives.com with your address and I can get you a quote within 24 hours!
Many Blessings!
Mary Jo