Today was the
re-dedication
of the monument erected in my husband's Great, Great, Great, Great, Great, Great Grandfather's honor. My husband, Russell, is the eighth generation direct descendant of Joseph Elliott who was in the Revolutionary War. He was commended for his bravery at the Battle of Lime Hill in
Wyalusing
, Pennsylvania, along the Susquehanna River and is credited with saving three children kidnapped by the Native Americans who had
sought
revenge for previous battles that the children's father had fought in during the Revolutionary War. The Battle of Lime Hill
occurred
in April, 1782, and was at the very end of the Revolutionary War which, I just learned today, continued on for a very long time here in sPennsylvania and New York.
In addition, Joseph Elliott was also presented with a sword by General George Washington on December 25, 1776, for his bravery during another battle earlier in the war. There is an earlier post on this blog with a link to the local newspaper article if you care to read it.
Anyhow, with all that said, it was a special day for our family because Elliott's from as far as Canada traveled to attend. It was a great time, and was wonderful to see my husband's cousins, many of whom were introduced to each other for the first time. I must commend the
Wyalusing
Historical Society for doing a fantastic job and for a lovely ceremony. Here are a few pictures:
Here are the youngest descendants, our sons Seth and Samuel, in front of the monument.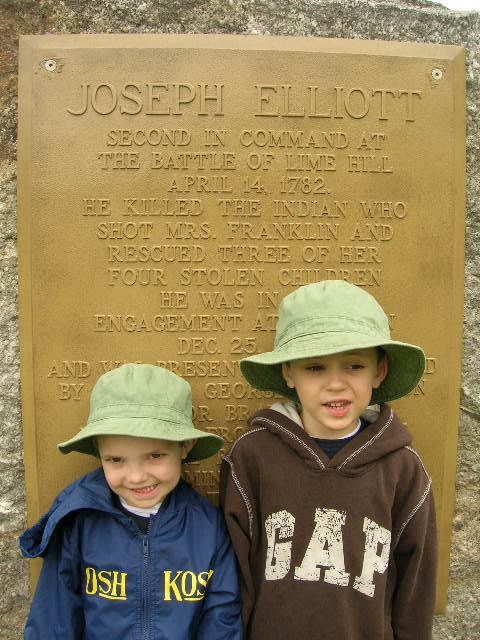 Here are just some of the relatives gathered around the monument. Russ is in the black jacket with Seth and Samuel in front of him in green hats.
Russ's
brother, Bob, also attended and he is in the denim shirt with his daughter hiding under the blanket...she was chilly!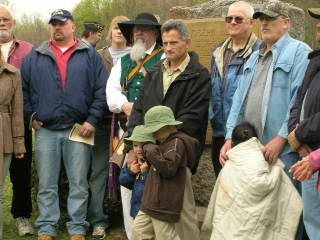 Here is a picture of the plaque and I left it a bit larger so you can (hopefully) read it: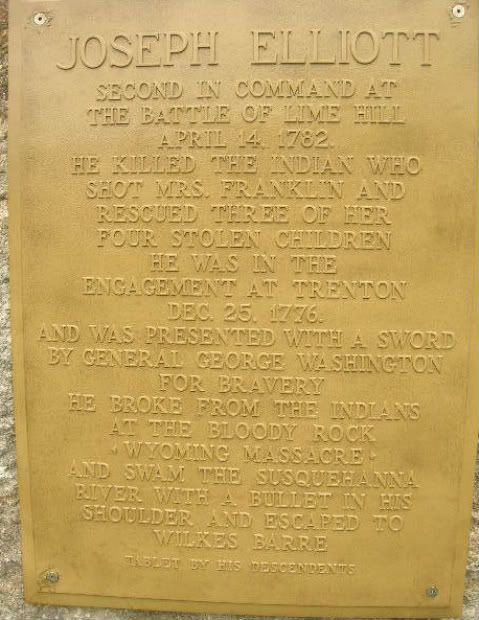 Rare photo of the four of us since I am always the photographer in our family. Obviously, I'm in the skirt :-)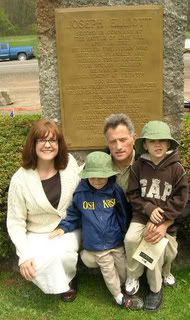 And here are my Elliott heros of the present day....Russ, Seth and Samuel: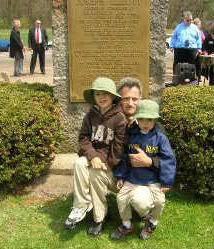 Thanks for looking and many blessings!