I had a great trip to Lancaster last week and brought back some wonderful new products that I am sure you will enjoy!
The first are some wonderful Preserved Sweet Annie Bunches/Bouquets. These are preserved, assuring you the sweet smelling herb will hold it's color and fragrance for years to come. These are great hanging from pegracks, drying racks, separating and fluffing for bowl fillers, and to tuck into the arms of that beloved primitive doll.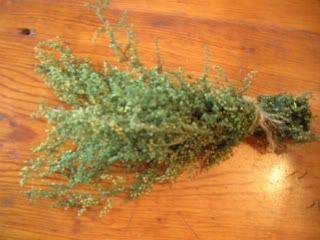 The battery operated taper candles continue to be a popular item, and now I've added a third color.....RED! Remember, these last over 700 hours of burn time on two AA batteries, and make great accents inside cupboards and in your hanging chandeliers.
Our lightweight coverlets were popular, and I brought in a new plum and mustard colored coverlet. These are great Colonial colors and wouldn't it look great draped over the back of your sofa or on the foot of your bed?
Finally, I was so excited that one of our suppliers had reprinted copies of Pennsylvania Dutch Cooking cookbooks. This is the from the same series of cookbooks that my own Mother owns and has authentic Amish recipes. It is in booklet form and is 48 pages and includes a brief history of Amish cooking. The price is right, at only $2.50, you can't go wrong! Trust me, everything in it sounds "wonderful good"!
This is just a sampling of what we have in store for you, so visit
http://www.finecountrylivingprimitives.com
to see even more!
Many blessings,
Mary Jo