I don't have any pictures yet, but we do have the second floor of our shoppe open and it is filling up quickly! I can't believe that I had all of these primitives in my house stashed away just waiting to go in the shoppe! I had goodies under beds, in boxes stacked several deep and nearly to the ceiling in our spare rooms!
I want to rearrange a few things before I take pictures of the second floor and show it off to my online customers.
What I can do for you now is to give you all a look at our porch of the shoppe and see our Americana display. It's been quite windy, so we don't have everything out that we would like for fear that it will be half-way down the road before we realize the wind took it away!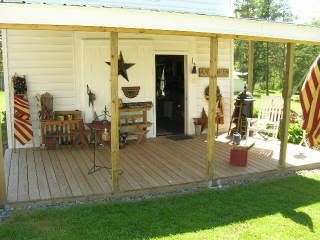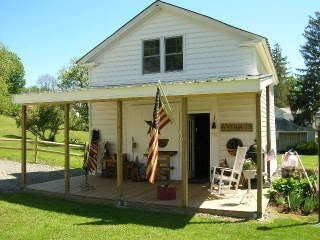 As always, I owe it all to my husband Russ. Without his untiring ambition, determination, and plain old common sense, we would not be as far as we are today. What a hard working man he is, and yet he has a gentle and peaceful soul. Thank you, and I love you and the boys more than anything!
Many Blessings,
Mary Jo