Traditionally, Early American Mothers made church dolls to keep their children quiet during church services. These were made using scrap materials, and there are many versions out there in the prim community.
Russ and I have been fortunate to find a Quaker Meeting to attend and it is held at a local Friend's home here in Susquehanna County. We've met so many wonderful people, and two of them inspired me to create, as they put it, a "
Quakerly
" version of the church doll.
So, thanks to Sally and
Barbarajene
, there are now "
Goin
' to Meeting" Dolls! I may hold the copyright to these simple beauties, but Sally and
BJ
get all the credit! By the way, since Quaker Meetings are a silent worship, these dolls will keep young and old alike nice and quiet, don't you think? ;-)
I've sewn their bodies from muslin and heavily stained them in my primitive solution. I stuffed them with rags and fashioned their clothing from another inspiration....Quaker Jane and Quaker Anne. Their websites are listed on the left side of my blog as Websites and Blogs of Interest, so please check them out.
Early Quakers, and more recently Conservative Quakers, wear traditional clothing of plain and simple dress. Many people think of Quakers of wearing just black, just like my dolls are, but there are many historic examples of browns, grays and even greens. Of course not ALL Quakers dress in this manner, and most Quakers are
indistinguishable
from anyone else in their way of dressing.
I created their bonnets with the traditional wide brim of a Quaker bonnet and also added a cape or a
handkerchief
wrapped around their shoulders and held with a rusty safety pin. I know, since when have you seen a Quaker wearing stained clothes with rusty accessories....but I've just got to add that primitive touch, you know!
LOL
!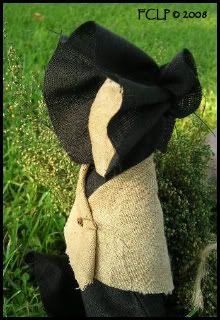 So anyway, that is how I made my Quaker
Goin
' to Meeting Dolls and what they are all about. I already have two other dolls floating in my head with
Quakerly
clothes and a primitive twist, so keep your eyes open!
And thanks again Sally and
BJ
!!! What a great idea! And if you are interested in these simple ladies, just visit my website by clicking the link below!
http://www.finecountrylivingprimitives.com
Peace and Blessings,
Mary Jo