These summer days have a way of slipping past without realizing it....can you believe that it is already July 16th?
We've been enjoying our Summertime, and hope you have as well!
Here are a few pictures of new products on our online shoppe:
One of my newest copyrighted designs, a primitive cupboard hanger featuring our popular battery operated everlasting tealights....only $8 for this prim accent piece and are under the Early Lighting category...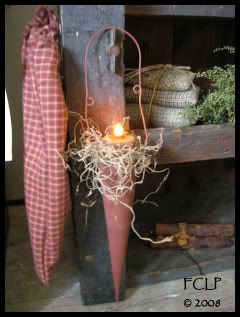 I just received two new items for our Early Lighting Category. They both are in an aged tin finish which, to me, looks a bit like pewter!


Our new Colonial coverlets are woven right here in Pennsylvania! I am proud to say that these beauties came from my home state....available in brick and linen and this lovely blue and linen. The best part...they are machine wash and dry AND are REVERSABLE!
NEW in our RETAIL shoppe are Donna Sharp quilted handbags! I don't have pictures of these yet, but I have them set up and ready for sale for this weekend, so if you are stopping in, be sure to take a look!
I am well stocked in the shoppe with our rusty tin star embedded fruits, kitchen towels, new painted furniture, new colonial prints, candles, new plush rugs, textiles and so much more! Call me at 965-0985 if you need directions, or visit our website at
www.finecountrylivingprimitives.com
!
Blessings,
Mary Jo