Our local Quaker Meeting that we attend in Forty Fort is trying to raise funds to build our very own Meeting House! The Meeting compiled a great cookbook of Friends' recipes that are their favorites for the occasional potluck that follows Meetings. By teaming up with the Sterling Meeting, the North Branch Friends has really put together a great cookbook that is perfect for gift giving!
The cookbook is about 155 pages long and has something for everyone....chapters on Appetisers, soups, breads, main dishes, vegetables, side dishes, desserts and more! There's even a little write up in the front that tells you a bit about our Meeting, so you get to know us a bit better too!
Guess what, it's only $10!!!!! And you can get one from my website! Just visit my website
www.finecountrylivingprimitives.com
(it's under the This and That category) or stop in the shoppe to pick one up in person. Thank you for your support!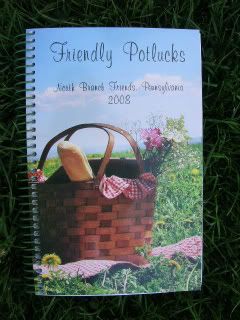 Many Blessings,
Mary Jo