I just received a shipment of our very popular mason jar tart warmers. These are not only perfect for warming your favorite tarts and wax potpourri, but cast a beautiful glow and light throughout the room!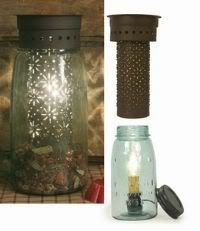 Here's a frugal hint or two.....don't put in full tarts, break them up and add a little first. It's easier to add more if you need more scent and sometimes a little goes a long way! Also, don't throw out your candles when they are burnt down. If it's a jar candle, pop it into the freezer for 10 minutes and chip pieces out. If it's a pillar candle, sometimes the sides don't burn down. Use these extra pieces in your tart warmers! Just remember, it's not being cheap, it's being FRUGAL! LOL!
To see these great tart warmers, just visit my site at
www.finecountrylivingprimitives.com
and go to either the Early Lighting category or New Arrivals.
Peace and Blessings,
Mary Jo