Uh huh, we've been busy here at Fine Country Living Primitives, and just added over 40 new products to the website. Guess what! I'm STILL not done! LOL!
Autumn is in the air, or at least in my imagination, and we've brought in some delightfully colorful and amazing new decorative plates by the Hearthside Collection. Here are just a few samples:
How about a new design in one of our very BEST sellers here at FCLP! Battery operated taper lights, but with silicone tips. If you liked the other style we've been carrying, you will LOVE the new!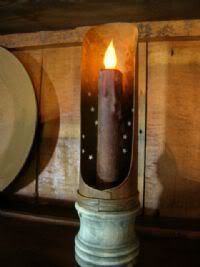 And just one more sample of our new goodies....here are the new baby grass candle ring/wreaths that we brought back. I'm showing you just one of our favorite ways to use these, and they are excellent quality greens that will add a touch of warmth to your home. We have the matching bush as well which looks great in crocks and baskets (love them in baskets!) and they are at very affordable prices!
We have plenty more to add including new Christmas and Winter theme decorative plates by the Hearthside Collection. We are also expanding our online products by bringing in some great framed prints under glass by Billy Jacobs and much more, so please be sure to check back!
Many Blessings, Mary Jo