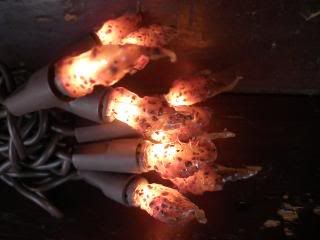 These extremely primitive string lights were hand dipped right here at Fine Country Living!
I took a 20 count strand of mini lights on a brown cord and individually dipped each little light in a mixture of silicone and my prim mix to give them an Early, extreme primitive appearance. The best part....I added oil to give them a yummy delicious smell! You have your choice of Cinnamon or Amish Friendship Bread.
These are great for winding through your berry pip garlands or around a grapevine wreath. I like to add them to shelves where I have gatherings displayed and wind them around my prims for added charm.
The strand is about 8 feet long and there is only one plug on one end. You can still plug two strands together, but the plugs will be in the middle of the strand. this will give you fullness especially on a shelf or within a grouping, but may not necessarily give you a longer strand.
You'll find these Early lights on our website and you can go directly to their page by clicking on the picture of the lights!
Enjoy, and many blessings!
Mary Jo