Many customers ask how we decorate for the Christmas season, so I thought I would share our kitchen with you.
We like to keep things simple in our house and I prefer to decorate as many Early Americans did way back then......simple wares with greenery.
This is our 1800's one drawer work table that we purchased in Strasburg, PA, over the summer. I simply added an old crate and placed a tabletop Vienna Twig Christmas Tree inside a folk art Rufus Porter inspired box.
Inside the crate I put an old cigar box on end and inside placed one of my new favorite primitives from our online shoppe, the peppermint swirl pillar candle. Next to it is our antique white Besnickle Santa and also an antique Christmas book that I purchased with a box lot of other items at an auction years back.
On either side of the crate are larger old and grungy looking Santas. I love placing larger objects such as these up on a table to give dimension, depth and up where you can see them and enjoy them! A little framed sampler sits beside the largest Santa.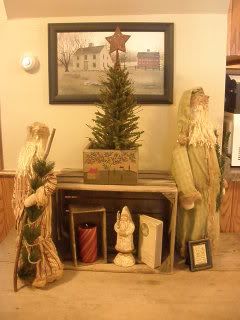 Under the table is our old dough box that I always have filled with our dried gourds from a few seasons ago. I simply add faux greenery by tucking them around and in between the gourds. I must admit that it looked much nicer a few minutes before I took the picture, but Sissy, my adopted kitty, decided she needed to re-arrange them herself before I could snap the picture. The joys of owning a cat......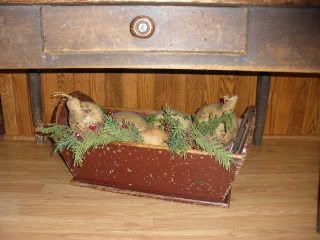 Other ways that I decorate around our home for the holidays is to take down my all year 'round pip berry vines from our Colonial chandeliers and add vines of holly berries and greens. I also have crocks filled with faux hemlock branches and greenery draped from my cupboards and display my very own cutter quilt table top Christmas Tree make-do. I hang some antique stockings and have two full size Christmas trees simply decorated with silicone tipped Christmas tree lights, dried orange slices, rag ball ornies and handmade gingerbread men and snowmen. One of our trees was beautifully decorated by our sons with their own handmade ornaments.....they even say how prim it is!
Remember, less is more and keep it simple. Especially with Primitive, Colonial and Early American home decor, you already have the perfect backdrop for an Early American Christmas....let your beautiful home show through and just add special touches to create your holiday mood!
Many Blessings,
Mary Jo