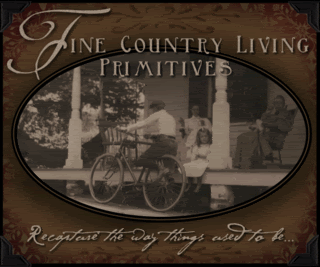 Oh, I'm just tickled pink....or maybe tickled prim....about our new website graphics! We've had custom website graphics created using a picture of our very own 1827 farmhouse!
This picture in the logo was taken sometime in the 1880's according to the family, and depicts a typical day at our home for the Beardsley/Jessup family. Ellen Beardsley-Jessup is the woman in the dark dress and her son on the bicycle, Albert Beardsley Jessup, is the grandson of Albert Beardsley, who built this house with his wife, Eliza, in 1827.
Somedays it still gives me chills to look at this very picture that hangs in our family's kitchen. To think that this home has seen so much in this country's history, has dealt with both sadness and joy, and is still here to whisper her stories to us amazes me. Very often I sit in my own chairs in that very spot on the porch and overlook my boys playing in the yard, and more often than not, I have some sort of hand-work with me to pass the time just as these women did that very day in history. I picture my husband and I growing old here, together on that very porch, watching our grandchildren run and play as our boys do, and a sense of comfort comes over me of how truly blessed I am to have such a simple, yet happy life.
We really do love what we do. This is not just a job for us here at Fine Country Living Primitives....it's who we are and what we live for. There's a story behind everything, we love sharing our love of primitives and our own personal lives with all of you, and "Recapturing the way things used to be....."
Many Blessings,
Mary Jo