The new Spring issue of Country Sampler magazine is out to subscribers this week and will be in stores shortly.
Once again, we are thrilled to advertise one of my favorite products in this issue.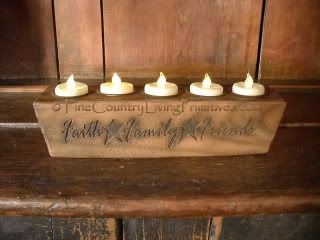 This reproduction treenware tealight holder looks like real wood and is in the shape of a sugar mold. It holds five tealights, and the ones shown blow on and off like real candles! You can purchase the tealight and holders together as a set or separately, whichever you prefer. Just click on the picture above and you will be taken directly to the product page on our website for more details.
We stocked up on this product due to the great response with our last product ad, but as always, I recommend that if this is something you really will enjoy, grab it while you can....you never know, it may not be there the next time you check and we'd hate to have you miss out.
Many Blessings,
Mary Jo