Ohhhh.....my new shipment of woven textiles have arrived and I am swooning over them!
All of our new textiles (as are all that I ever order) are machine wash and dry....yes, machine wash and dry! Feel free to use these textiles and still pass them down through the generations! I'm a firm believer in using what you love, so I only purchase textiles that you can wash yourself...no dry cleaning necessary. Heirlooms were meant to be enjoyed by your family, still hold up to the wear and tear of everyday life while maintaining their beauty, and these textiles do just that! And best of all, they are all in the black and linen combination that you all love (and buy me out of each time) so that everything coordinates together perfectly.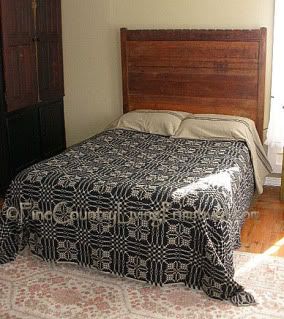 This new coverlet is the Sea Star and Jewel pattern. It is Queen size, but I've shown it on my full size antique bed and it works wonderfully! Take a look at the picture below, it is also reversable, so you can change the look of your bedding in an instant. These also look great folded and placed in a cupboard or at the foot of a bed.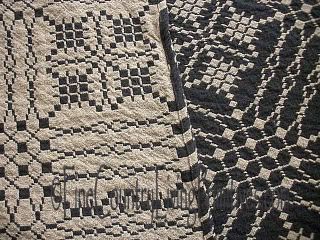 The next is a new FULL size and TWIN size blanket in the #5 stripe pattern. This blanket is woven in a herringbone pattern (a very subtle variation in the weaving pattern) with five black stripes in groupings along the blanket. Use as a blanket or even as a coverlet itself, or fold and place on top of a blanket chest. This fits our full size bed and will also fit a twin size generously...twin sizes are nearly impossible to find in Early American woven textiles, so this will work just great!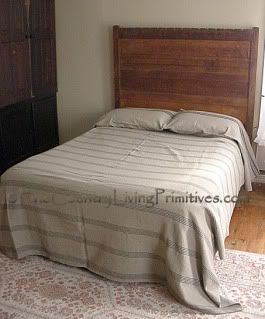 Finally are our new duvet cases. In our picture, we've added a standard size pillow and draped the sides over the edge of the bed...how Colonial! Each one is handstitched with the initials HW and 10 for the year it was made. These just arrived, and they have already discontinued this product, so what I have in stock will be all that I can get in....so hurry in if you wish to purchase the cases, and they are sold in a set of two.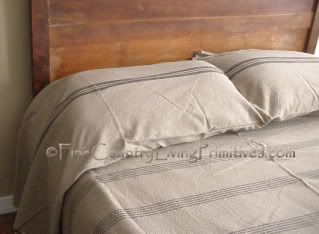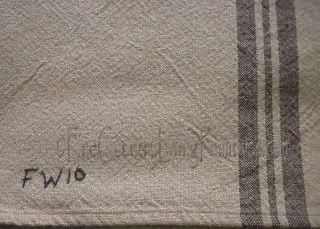 All of our textiles are woven right here in Pennsyvlania using the same methods as Early American weavers and the quality is amazing and we are proud to be able to offer them for our customers. The coverlets and blankets all have a center seam down the middle which is a normal part of the weaving process and is seen in antique textiles as well and is not considered a defect. We know you will love them as much as we do!
Many Blessings,
Mary Jo