We're always shopping for new primitives to bring to our customers! Here are just two of our new products.
This is our new small grubby battery operated taper measuring approx. 4 1/2" tall. It's perfect for our handcrafted corner sconce. These both can be found in our Early Lighting category.
We're getting a jump start on Christmas! This is our candy cane hand dipped battery operated taper candle and can also be found under our Early Lighting category.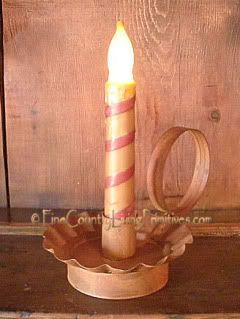 Our Faith Family Friends treenware tea light holder that we advertised in the current issue of Country Sampler has already sold out. Our Early Lighting category is one of our best selling line of products, so our new items in this category do sell quickly! Visit www.finecountrylivingprimitives.com to see these new products along with many others!
Many Blessings,
Mary Jo