We are thrilled to have three of our ornaments that we offer here at Fine Country Living Primitives on the Christmas Tree on Country Sampler's 2010 Christmas issue! Even though Country Sampler informed us that ours were among a few others chosen for this annual issue, it was still a thrill to see it when it was 'unveiled' on Facebook this week.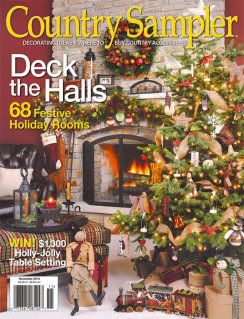 Our three ornaments are the muslin snowmen with homespun hearts, the round ragball ornaments and the glittered icicles. Our three ornaments are offered on our website under the "Country Sampler" category and you can find the other ornaments featured on their Christmas tree by checking out the first page or two of the magazine and look at the "on the cover" section where myself and the other merchants featured will have our information on purchasing.
As always, it's a true pleasure to be a part of the Country Sampler Magazine family!
Many Blessings,
Mary Jo