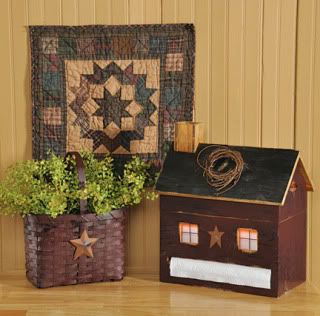 Many subscribers are already receiving their Christmas issue of Country Sampler magazine in the mail, and we are so happy to advertise our products again in this magazine. The above picture is our actual ad in this issue and even though we knew that the products would be popular, we didn't anticipate the response that we are getting and they are selling fast!
The lighted saltbox house is a paper towel holder and the lid lifts off in order to place your paper towel roll on a dowel. Simply feed the paper towels through the bottom slot and not only do you have a beautiful accent for your kitchen, but it's functional as well! I personally own this and absolutely LOVE it! We have it in both burgundy and mustard, it is made in the USA and they will make the perfect gift for someone who has just about everything…including yourself!
You may click on the picture of our ad to be taken directly to their product page on our website.
A few months ago, Country Sampler contacted us if we were interested in submitting some of our favorite ornaments for consideration to decorate their Christmas tree on the cover of their annual Christmas Issue. We were so excited to hear that
three
of our ornaments were chosen! What an honor, and we'd like to show you both the cover and one of our ornaments chosen below. You can find these ornaments under the "Country Sampler" category on our website.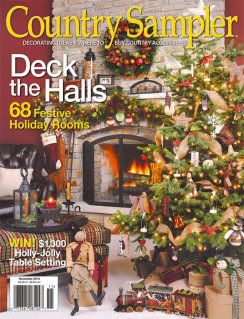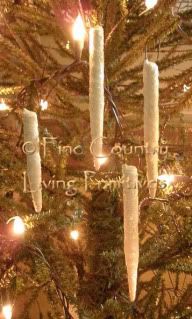 And don't forget, it's still Fall decorating season and we have many beautiful things to add those Autumn touches to your home! We have also added many new products and moved some into our "Clearance" category to make room for even more. We are always receiving new shipments in and many times have new primitives in each week….always keep checking back for more!
Many Blessings, Mary Jo