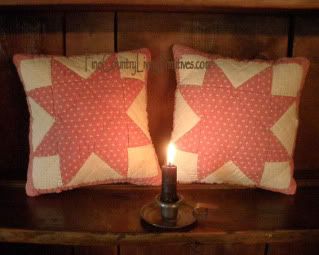 I had this lovely antique quilt but it was in such poor shape....it still amazes me how some fabrics survive for 150 years and some do not. The good news is that many of the star blocks were in very good condition and I created pillows from them.
The blocks were handpieced and handquilted and I am guessing that it was made in the mid 1800's. The once deep, rich pink has softened as has the once vibrant white cotton background fabric which is now cream. A few seams may be popped here and there along with a slight stain or two on a few of them, but this only adds character and charm to them. I did gently launder the quilt before I made the pillows just to freshen up the fabric. I used unbleached muslin as the backing for the pillows.
They measure approximately 9" square, with slight variations due to the handcrafting of both the blocks and pillows. They will add so much charm to your Country, Primitive or Colonial home! Tuck them on your shelves or in a chair. Add one under the arm of your favorite doll or buy several to fill a dough bowl.
You can find them on our website
under our New Arrivals category or the 1827 Collection category.
Many Blessings,
Mary Jo